Contents
Home
About Us
Price List For Custom Made Instruments
Andrea Tkach Harpsichord Decoration
Comments
Instrument Portfolio
Construction Portfolio
Audio Selections
2001 Exhibit
Write Us
"In the bare poplar a voice
Of such well-being
It burst space open."
Dag Hammarskjøld was probably not thinking of harpsichords when he wrote this haiku in 1959, but for us it has become an inspiration as we recapture the sounds of the past from the bare wood. We are dedicated to making beautiful, dependable, historically based instruments for today's musicians. It is very interesting to read about the history of musical instruments. If this is what you are writing an essay about, please buy custom college essays and make your study easier.
The keyboard instruments produced in Flanders, France, Germany, Italy and England during the 16th, 17th and 18th centuries are considered to be the paradigms for performance of keyboard music, solo and ensemble, of this period. Our goal in making early keyboard instruments is not to re-create the past. To this end, we use plans and designs proven by the makers of the 17th and 18th centuries but attempt to create instruments for today. All instruments are made at single or double low pitch (A-415 or A-392) to accommodate light stringing in iron and copper-alloy wires. To be usable in modern situations, all are transposable to A-44O. Our blending of modern methods and historical precedents results in instruments that will maintain their integrity and dependability for many years.
Strength and stability are two of our top priorities in instrument making. All case corners are reinforced with multiple cross-fingers; all members which span the instrument, including the wrestplank and nameboard, the belly rails and the frames, are either mortised or dovetailed into the case sides; and the bottom is made of solid wood, lap-joined at the belly rail and glued and screwed to the case and frames. Although modern construction techniques and tools are used in our work, the case design and framing, soundboard wood and bracing, and key and jack action follow historical models. Resulting instruments have an exceptionally quiet and free action, full resonance and projection, and extraordinary structural stability.
Visual beauty is also of primary importance to us. Decoration of our instruments is determined through close consultation with the client concerning colors, soundboard painting, gilding patterns and application, decorative hardware and other decorating details. Our joint goal is an instrument that is both visually pleasing and personalized.
We welcome suggestions regarding design, registration and decoration. We truly believe that no two harpsichords are alike and strive to make each instrument unique and personally satisfying to the client.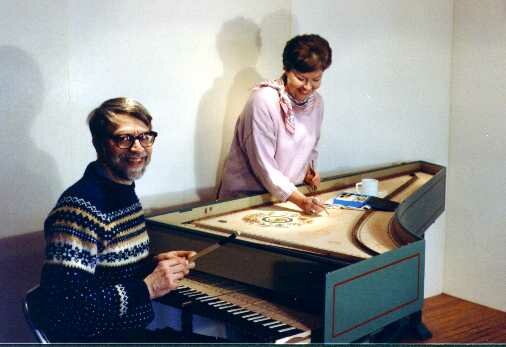 Peter Tkach received the Bachelor of Music degree from St. Olaf College, the Master of Music degree from Washington University, the Master of Arts in Religion degree from Concordia Seminary in St. Louis, and the Doctor of Musical Arts degree from the University of Texas in Austin. In 1962 he received a Fulbright scholarship to study choral conducting and performance practice in Germany. For more than twenty years he directed choirs and taught in high schools and colleges, making instruments as an avocation. Several years ago he apprenticed in the art of instrument making with the Martin Ott Pipe Organ Company of St. Louis. He has been making early keyboard instruments for more than thirty years.
Andrea Tkach has taught English since 1961. She received her Bachelor of Arts degree from Washington University and her Master of Arts in Teaching degree from Webster University. In addition to teaching, she has always been a serious student of art and, since Peter began making instruments professionally, has studied soundboard and case decorating and painting techniques on early French, Flemish, and Italian instruments. Her work remains true to historic designs, materials and techniques while accommodating clients' preferences.
Mission Statement
Biographical Sketch
An Interview With Peter Tkach